Ball bearing hub unit
Hub units are wheel bearings combined with various peripheral parts, which in a single component play a vital role in supporting vehicle motion.
JTEKT produces two types, both of which feature high precision and durability: one supports vehicle weight while delivering smooth rotation, and the other does that as well as assisting in the transmission of the driving force from the engine to the wheel. Beginning with the consideration of the car's overall construction to the environmental impact of our manufacturing techniques, JTEKT hub units are built to be lightweight with low rotating friction to enhance fuel efficiency, while maintaining the strength and rigidity that ensures optimal driving performance.

Features/Selection:
1. Fuel Efficiency/Performance: Simultaneous achievement of weight reduction (=fuel efficiency) and increased strength/rigidity (=driving performance) at a high level.
2. High Reliability: High reliability ensured, even in severe environments such as driving on muddy roads.
3. High Capacity: High-capacity bearing design enabled by maximizing the use of allowable space.
4. Recommended set-up: Recommended specifications are set according to vehicle segment (axle load).
5. Modifications: The flange design can be modified to suit installations to customer's vehicles.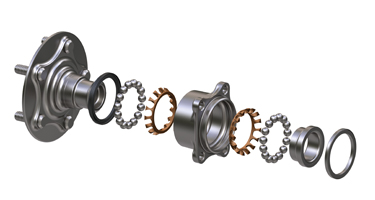 Structure:
1. Grease: Superior lubrication/fretting resistance
2. Outer seal/Inner seal: Superior muddy water resistance also in low friction torque
3. Inner shaft/outer ring/flange shape: Strength/rigidity and weight reduction realized
4. Shaft end clinching: Number of parts reduced/overall weight reduced
Return