• Message from president of JTEKT Corporation
Tetsuo Agata
JTEKT Corporation was established in January 2006 through the merger of Koyo Seiko Co., Ltd., a world-class bearing manufacturer, and Toyoda Machine Works, Ltd., a machine tool manufacturer excelling in world-leading technologies. Combining the most advanced technologies and the manufacturing passion of the two companies, JTEKT is now a trusted systems supplier of automotive components, bearings and machine tools, providing customers with world-class No.1 products and only one technologies that result in ongoing contributions to society.
One world-first example is pioneering the successful development and mass production of electric power steering systems, and we still hold No.1 share in the global market today. We were also the first manufacturer in Japan to develop high-precision, durable bearings capable of reliable performance in severe environments such as steel rolling mills, where temperatures exceed 1,200°C, thereby contributing to the expansion of various industries.
Additionally, based on one of our only one technologies for STAD bearings, we produce cylindrical grinders that maintain high precision even after more than 20 years of use.
The JTEKT Group introduced JTEKT Group Vision, a common guideline for its employees worldwide. By refining the No.1 & Only One technologies and products that we have produced to date and providing the products and services sought by our customers, we will continue contributing to the realization peoples' happiness and a more affluent society.
• Message from chairman of JTEKT (CHINA) CO., LTD.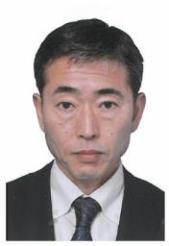 Shuji Tateishi
Since the establishment of the first manufacturing plant in China in 1995, JTEKT has provided a wide range of products to meet customer needs.
In recent years, energy conservation and environmental protection, automatic driving are being paid more and more attention.
Moving forward, we aim to further strengthen our production, sales and technology framework and strive to provide better products and services based on an abundant product line-up and a track record of achievements and trust built up on a global scale.
We are also working to build a company with strong connections to the local community through active participation in various fields, particularly focusing on the environment, welfare and sports in exchanges with local citizens and universities in each area.
As the spirit of "In China, For China" we 26 group-affiliated companies work together to bring together strengths in production, sales and technology, becoming a valued partner of customers in China and contributing to people's happiness and an affluent society through manufacturing that wins the trust of society.