Electric pump type hydraulic power steering(H-EPS)
Excellent safety, comfort and environmental performance by energy-saving hydraulic power steering system equipped with a microcomputer-controlled electric pump.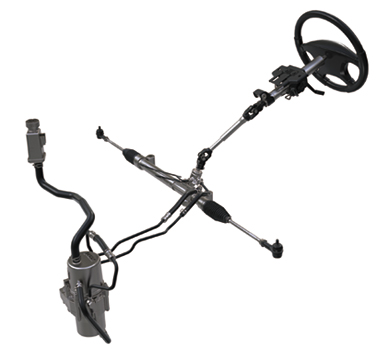 Features
Extremely flexible installation and suitability for EV driving realized by independent electric pump.
Excellent steering feel and improved fuel efficiency realized through optimum discharge setting (MAP) and special valve tuning.
Idle stop mode: the energy consumption in non-steering mode (straight line driving) is reduced by about 80% (10-15 mode) than normal hydraulic power steerings.
Details
Hydraulic power steering (HPS) gear : Comfortable steering feel realized by optimal tuning of low-flow valve.

Electric pump/ECU (power pack) : Helical gear reduces pulsation, and realizes compact/light weight design.
Return