Column type electric power steering(C-EPS)
Introduced as the world's first EPS in 1988.
Superior safety, comfort and environmental performance based on technologies and experience accumulated since its introduction.
Features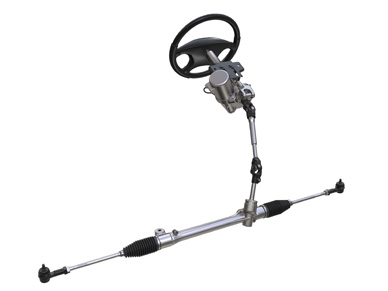 Power assist unit is located in the driver's cab, so this type of steering system is suitable for compact vehicles that have a small engine compartment.
Suitable for mini vehicles, compact vehicles and medium sized vehicles with small engine compartment.
Details
Column : Stable operation and high collision safety performance.

Motor/ECU : Compact, lightweight, high-efficiency integrated motor/ECU.

Rack-and-pinion gear : High strength and high rigidity.

Torque sensor : Compact, simple design and high performance.

Reduction gear : Low friction and quiet performance.

Intermediate shaft : Combined sliding load and rigidity.
Return